It's hard to believe it has been 50 years since KOBE Japanese Steak and Seafood House first opened its doors to the public on 1042 Alberni Street. Over the last half century, KOBE has become known as a destination restaurant: offering fresh, gourmet ingredients, with a curated selection of highly-skilled and entertaining chefs, for an exceptional dining experience.
During the mid 1960s, Michael Bruser – founder of KOBE Japanese Steak and Seafood House – was travelling through Asia, and during a brief visit to Japan, he sought inspiration in traditional, country-style inns. These authentic eateries motivated Michael to create his own reproduction of Teppanyaki – hibachi-style cooking – in the heart of Vancouver. He wanted his own city to experience the unique cooking style that Teppanyaki offers. Now, 50 years later, Michael's eldest son and current owner of KOBE, Brian Bruser, carries on his legacy.
Hibachi-style cooking – using a modern, gas-powered griddle, centered around dinner guests as they enjoy a live show of their food being prepared – is an art form. Chef Jimmy, one of KOBE's longstanding and cultivated chefs, tells us some of the highlights of being a Teppanyaki chef in Vancouver.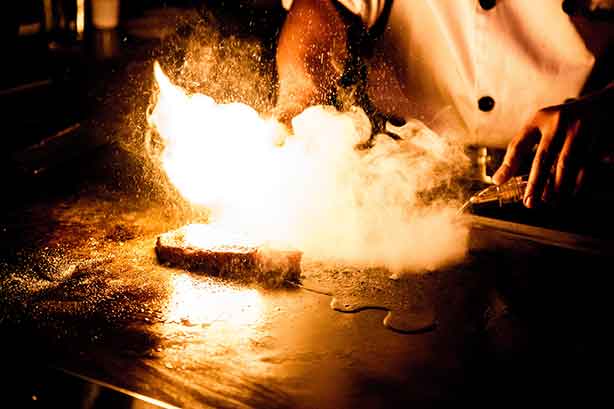 "I absolutely love what I do," says Jimmy. "It's been over 20 years, and I've never had a boring day. Almost everyone who plans to dine out has two things in common: the desire to have a wonderful time AND some amazing food. That's what KOBE is all about. And knowing that I'm a part of this experience, gives me great pleasure and satisfaction in my work."
When we asked Jimmy about his most memorable guest encounters, he told us about the exciting role he has played in many wedding proposals.
"I've had a few instances where a gentleman has asked me to create something out of the ordinary – such as bean sprouts in the shape of a heart, or an engagement ring with a question mark – allowing him the opportunity to get down on one knee and propose. When this happens, there's a moment of silence and awe, as everyone anticipates his partner's response. When she does say 'yes', it's a truly remarkable moment to see everyone applaud and share in the couple's excitement."
Jimmy has also served some very famous guests including George Clooney, Sarah Jessica Parker, Tyra Banks, Russell Peters, Selena Gomez, Katie Holmes, John Claude Van Damme, Shia LeBeouf, Amanda Bynes, Zac Efron, Robert Pattinson, Kristen Stewart, Freddie Prinze Jr. and Nick Carter to name a few!
It wouldn't be possible to celebrate KOBE's 50 years of history without a nod to the longest-serving and most seasoned Head Chef at the restaurant; Gordon, who has 40 years of cooking experience with KOBE.
"I started in September of 1978 as a busser and advanced to Head Chef over the years," says Gordon. "I originally trained under Head Chef, Tseuno Yamagishi, the creator of our famous ginger and mustard sauces. He was directly recruited from Japan, as Michael Bruser wanted his restaurant to provide an authentic, Teppanyaki experience, which our customers still enjoy today."
When we asked Gordon what he believes KOBE customers enjoy most, he responded with 'fire!'
"Everyone loves to watch the flaming onion volcano. The most challenging part of being a Teppanyaki chef is the ability to entertain 10-12 people at once, but this trick never fails to impress."
Gordon also tells us some of his highlights of being a Teppanyaki chef at Kobe for the last 40 years.
"A few years ago, a gentleman in his mid 20s, seated at my table, approached me holding up a picture on his phone. Showing me the picture, he said that he had come here for his birthday as a child, and he had remembered that I had been his chef all those years ago. It was a touching moment. I love seeing all the happy customers come back, time and time again. There are many people who return to celebrate birthdays, anniversaries, etc. and it is truly an honour to be a part of their traditions."
KOBE recognizes the success of its restaurant in promoting the highest-quality standards in preparation and presentation of its gourmet, authentic, Japanese cuisine. For 50 years, KOBE has prided itself on exceptional and entertaining dining experiences – with the help of highly-skilled, world-renowned chefs – and they will continue to strive for the next 50 years.